Geoffrey Uswege Kamwela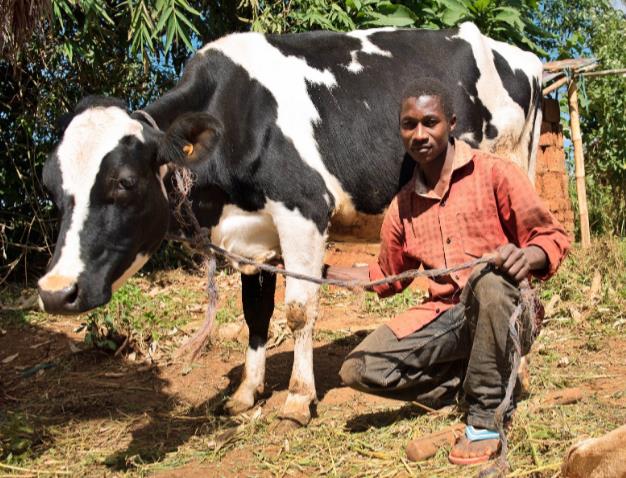 Geoffrey lives in Kisondela Ward, where Africa Bridge started working in May 2016. Residents of Kisondela have experienced clear impacts on their daily lives and continue working towards sustainable positive change. 888 children have been supported with school uniforms – a major achievement that is linked with consistent school attendance. Additionally, 907 children in the ward that were previously uninsured, now have health insurance cards. All of the 166 households that were initially supported with chickens are now collecting eggs and selling them as well as eating them at home.
Geoffrey describes what being a part of Africa Bridge's work has meant to him and his family so far.
I was born in this village, the eldest of a seven person family. Because I am the first born, my father gave me the house I live in now, so I can take care of my family. I live here with my wife and my three children: Christian, Betina and Asteria. A normal day for me is waking up, taking care of my cow, and then going to the brick factory to work there until 4:00 pm. At the brick factory I work as a casual laborer, and I earn 3000 TZs ($1.31) per day. I come home afterwards to eat with the family and to take care of the cow I received through the Africa Bridge program.

I heard about Africa Bridge through our village leaders. My fellow villagers chose me to be among the program participants because my family and I were living in a vulnerable environment. Africa Bridge helped a lot in this village. They helped us with school uniforms for our children, exercise books, shoes blankets, and now dairy cows, avocados, and chicken projects and even health insurance cards.

Before Africa Bridge, our children used to go to school with tattered clothes, and this made teachers send them back home, because in Tanzania you have to wear school uniform to go to school. It would take two to three weeks to find money to buy a good uniform; meanwhile, our children were at home, not in school. Also in the past, we used to have only one meal per day, but now because of our dairy cow project, we have three meals. We get milk and exchange the milk for food from other villagers. Another change is that we used to do farming without applying manure into our farms, so we didn't get good and quality products from our farm. But now we have the cow, we use the manure in our farms, and we get good products to sell and for home use. In the past, I used to harvest 3 tins of maize but now I am able to harvest 8 tins of maize.

Africa Bridge works without discrimination, it works with everyone, and through the pass-on process in our village, we believe everyone in the village will eventually get into the project. This is why it is so important for Africa Bridge to work in these communities."

Geoffrey Uswege Kamwela